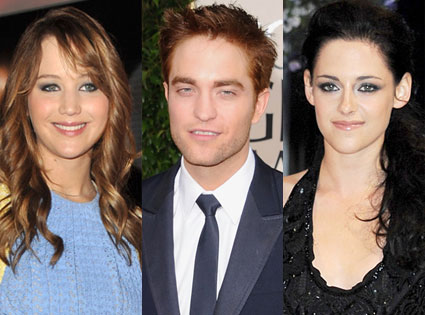 Están Robert Pattinson, Kristen Stewart y Jennifer Lawrence Dirgiendose a los Oscar?
No se sorprenda un poco, si vemos a Robert Pattinson en los Premios de la Academia de este año.
Sí, el ha presentado en los Oscar ya, pero …
Su nueva película, Bel Ami, se estrenará sólo unos días después de la noche más grande de Hollywood del año. Un representante de la estrella de Twilight no ha hecho comentarios sobre sus posibles planes para asistir.
Mientras tanto, Kristen Stewart también se decía que esta al principio de la lista de presentadores deseados. Mientras que Snow White and the Huntsman no llegará a los cines hasta junio, ella idealmente sería emparejada con su fornido co-estrella del cuento de hadas Chris Hemsworth.
El Sr. Hemsworth en realidad tiene dos películas, The Avengers y The Cabin in the Woods, que sale antes de Blancanieves, así que, qué mejor manera de promoverlos todo en un solo pez gordo que en los Oscar?
Y luego, por supuesto, no hay The Hunger Games. Me han dicho que los peces gordos del estudio de Lionsgate Studios están trabajando horas extras para tener una presencia de Hunger Games. La película sale menos de un mes después de los Oscar el 23 de marzo.
Aunque me han dicho que Jennifer Lawrence (que fue nominado al Oscar por primera vez el año pasado por su trabajo en Winter's Bone) no ha recibido una oferta de la Academia por el momento, creemos que sería bastante impresionante verla subir al escenario con sus compañeros de elenco el bombón Liam Hemsworth y Josh Hutcherson.
Ahora queremos saber de usted. Vamos a ayudar a la Academia con algunas sugerencias de presentadores posible. Hágales saber que usted quiere ver en la gran noche!
Gracias a RPlife por el aviso
¿Robert Pattinson y Kristen Stewart, asistirán a los Oscars?