Band of Horses, que compusieron el hit 'Life On Earth' en la banda sonora de Eclipse, están en Brasil para presentarse mañana, 7 de abril, en la primera edición del festival Lollapaloza. Aprovechando esta estadía, Billboard conversó con la banda que se mostró bastante contenta por ser apreciada por los miembros del elenco, principalmente por Kristen Stewart.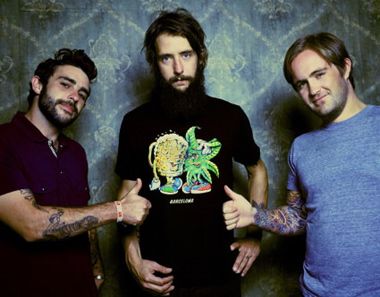 Las melodías bellas y muy tristes a veces, del grupo americano, Band Of Horses, son apreciadas por los fans del indie rock, que serán mayoría en su show en el festival Lollapaloza Brasil, el día 7, su primera en el país Pero el grupo no tiene ninguna intención de ser sólo un "tesoro alternativo" – se complace en ser descubierto por los espectadores de muchos programas de televisión y películas en sus pistas. No sólo los aficionados, sino tambíen, a los actores. Kristen Stewart, protagonista de Crepúsculo, se volvió fanática de la banda después de su canción "Life On Earth", que fue una escena de la pista, e incluso dijo que se inspiró en Band Of Horses para grabar sus escenas.
El bajista Bill Reynolds, quien dice que ama las películas de la saga, habla de Brasil a Billboard y acerca de la ardua labor de productor, compositor y músico, y de perseguir el éxito indie sin represión, "No tengo miedo a ganar un Grammy".
¿Y porque tienen tantas canciones en televisión y películas?
El mercado ha cambiado, y ahora tener la música en televisión y el cine es una gran cosa. No era así hace diez años. Es una oportunidad única para llegar a nuevos fans.
¿Ustedes vieron la película Eclipse, con "Life on Earth" en la escena?
Sí. Estas películas son muy buenas. Las personas seguidoras de la película, van a nuestros conciertos.
¿Los aficionados o los actores?
Los dos. Kristen Stewart, por ejemplo. Estamos orgullosos de que a ella le guste nuestra música. Yo nunca la conocí personalmente, pero me alegro de que haya venido a nuestros conciertos.
Diatrio Twilight